Go Power! — The Leader in RV Solar Technology For Over 25 Years
RVers and campers are pushing the limits of their solar power systems by going further off-grid and using more appliances and personal electronics. And RV solar technology is evolving quickly as users embrace more efficient solar panels, lithium batteries, and integrated, 'Smart' RV systems.
That's why it's critical for RV owners and manufacturers to choose the most efficient, reliable, and advanced solar technology available. At Go Power!, we've spent over 25 years developing and sourcing industry-leading components for our portable solar kits and RV solar power solutions. Here's what makes Go Power! the best in its class:
It Starts with the Panels
Choosing the right solar panels can have a huge impact on the performance of your RV power system. And Go Power! knows solar panels — we've shipped over 1,000,000 of them!
Quality is key when choosing solar panels for your RV. While cheap panels may be tempting, don't be fooled. They're often constructed with many cut cells—they may be less expensive, but they're also less efficient. Go Power! only sells full, complete solar cells that perform better and are worth the additional cost.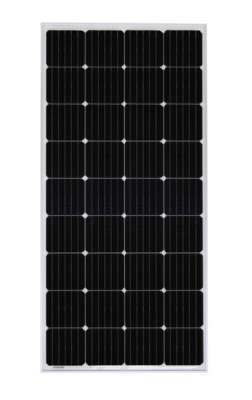 Ultra-Efficient Rigid Panels. Multiple busbars on solar cells improve the efficiency of the solar panel. Busbars are thin strips of metal that conduct electricity between the cells. While most of our competitors use cells with four or five busbars, Go Power!'s recently announced panel will have eleven.  This 200-watt panel will have the same footprint as our current 190-watt panel and is designed to perform exceptionally well, even in shaded conditions.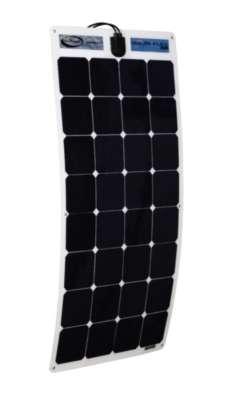 Best In Class Flexible Panels. Go Power! offers flexible panels made with SunPower cells, the industry's most flexible and durable solar cells. Lightweight and portable, SunPower cells use the most highly efficient materials available, which means more power and faster charging times for your RV batteries.
SunPower cells are extremely resilient and resist cracking, even when bent. If a panel does crack, SunPower cells are designed to reroute power around the damaged cell with minimal performance degradation.
Batteries are at the heart of every RV solar system. For years, absorbent glass mat (AGM) batteries have been the 'go-to' for RV applications, but they're quickly being surpassed by new lithium battery technology.
Zero-maintenance lithium batteries are lighter, more efficient, and can last up to 10 years (versus three for legacy RV batteries). At Go Power!, we offer best-in-class lithium iron phosphate batteries, which have a better lifespan and discharge rate than lithium ion. Lithium iron phosphate batteries are also safer — they're more stable, remain cooler in high temperatures, and are incombustible, even when mishandled.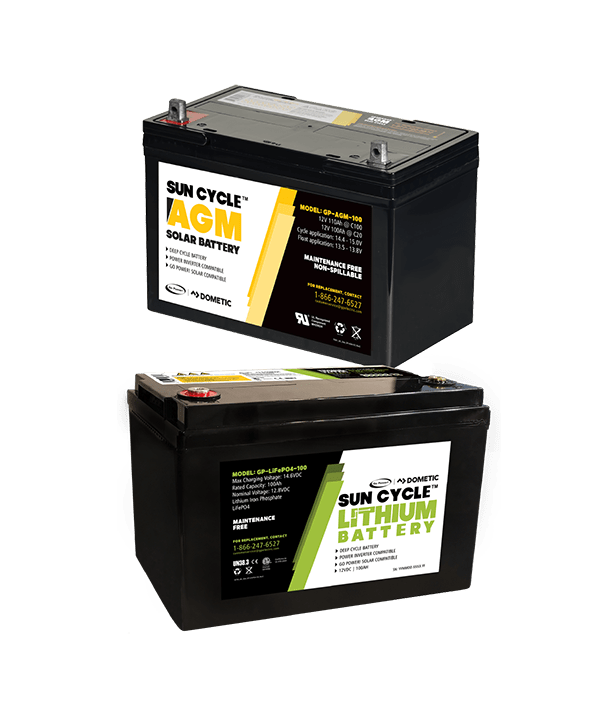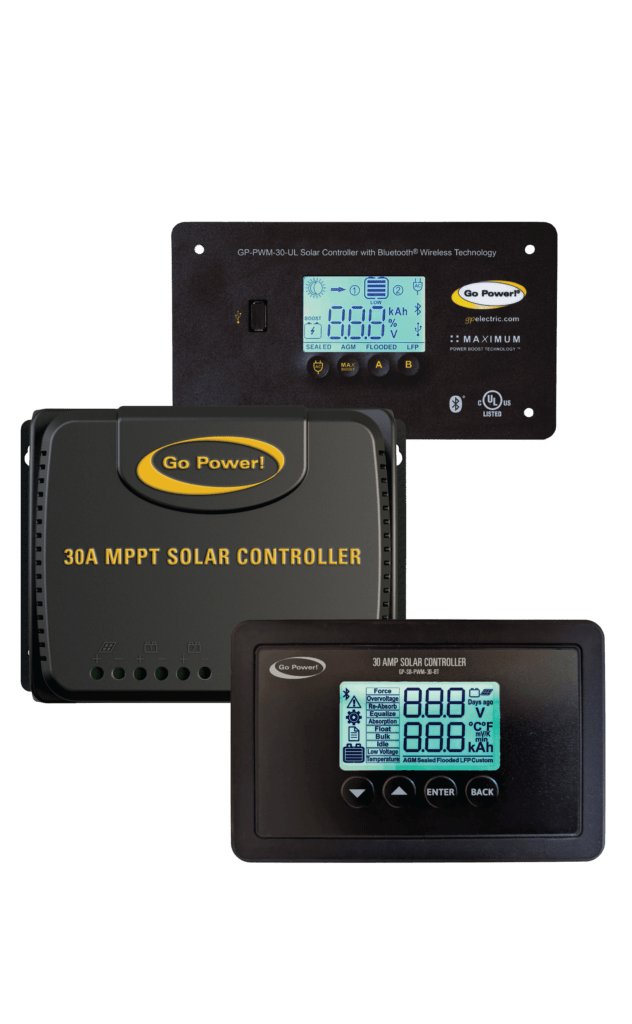 Advanced Charge Controllers
Charge controllers regulate the voltage and current coming from the solar panels to the battery, preserving battery life by preventing batteries from overcharging.
While Pulse Width Modulated (PWM) controllers are commonly used in many RV solar applications, Go Power! also offers more sophisticated Maximum Power Point Tracking (MPPT) controllers.  MPPT controllers are up to 30% more efficient than PWM controllers and provide even more control. Go Power!'s MPPT controllers operate with up to 98% efficiency for optimal charging in all sun and tilt conditions. Easy to install, Go Power! controllers are also compatible with 'smart RV' RV-C systems.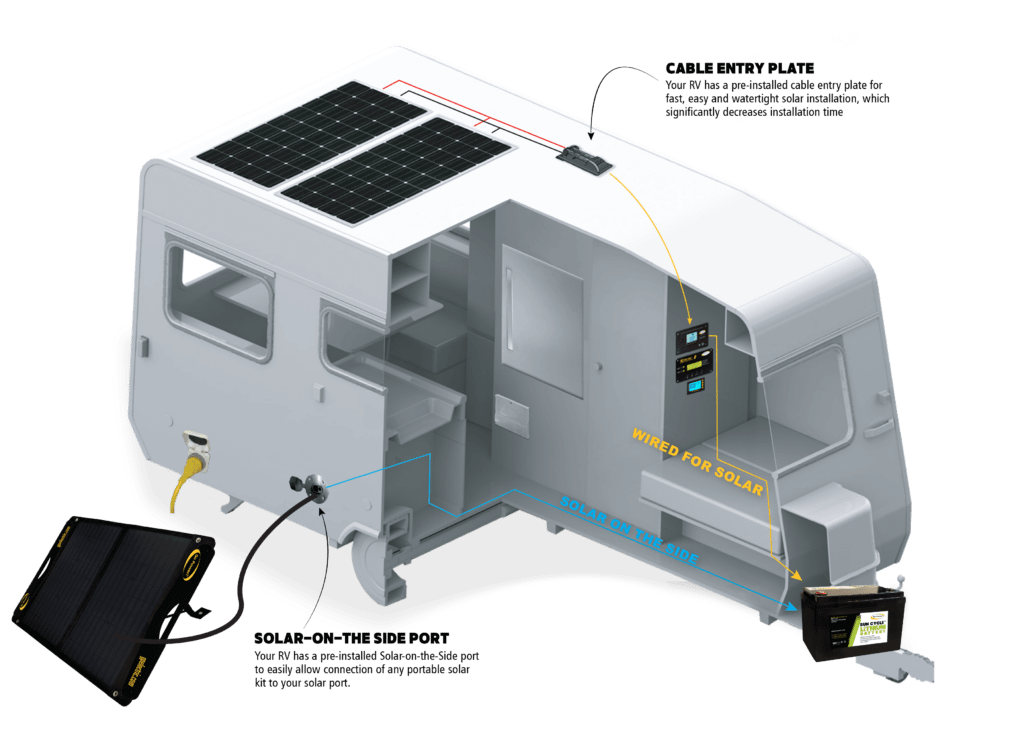 The Go Power! Pre-Wired Program
Go Power! partners with RV manufacturers to pre-wire new RVs for Go Power! solar solutions. This ensures that the correct size and quality of wire is installed to rigid specifications. RV manufacturers typically include this wiring in the OEM warranty and can shorten or customize the wiring to optimize performance of your Go Power! solar system.
In-House Engineering, Testing and Quality Control
As an industry leader in RV solar solutions since 1996, Go Power! invests heavily in product development and ongoing quality control. We carefully source, build, and test all our system components to ensure optimal performance, reliability, and interoperability. Many of our products are also proven performers and are third-party tested and certified for safety and longevity. Stamping a UL, CSA, and ETL logo on our products isn't easy, but the safety and peace of mind these certifications provide are worth it.
Industry-Leading Innovation
While Go Power! is known for offering the industry's most reliable and efficient RV solar panels, our quest for innovation doesn't stop there. From Bluetooth-enabled solar controllers to full 'Smart' connectivity suites that let you control multiple devices from a single panel, Go Power! is committed to delivering the most powerful, user-friendly RV solar solutions to our customers. And this includes portable solar systems for small rigs and tent campers — we recently launched our Dura line-up of portable solar solutions that combine big power and utility in a small, lightweight package.
Customer Support - When and Where You Need It
Go Power! offers a comprehensive warranty — 25 years for our solar panels and five years for most major components. And whether you're looking for installation help, technical support, or post-sales service, the Go Power! team is here for you. We support an extensive network of highly-trained dealers and installers, and with our products sold and serviced in over 700 locations across North America, hands-on help is never far away.