The Airstream Reno that Rendered a Mobile Home Completely Energy Independent – A Customer Story
Turns out, renovating a trailer is an incredibly rewarding experience, and there's no better way to explore the world than in a tiny home on wheels. From bold landscapes full of mountains and deserts to stunningly beautiful coastal towns. Here's how an adventurous couple made their dreams a reality.
"When we decided to take the plunge and start renovating a vintage Airstream, we had one burning desire in mind: to get out there and explore the outdoors. We knew that when our renovation was complete, not only would we have a gorgeous home away from home – but it would grant us freedom like no other; an opportunity to travel around this great continent on our own terms, with everything we needed neatly tucked away inside."
Though daunting at first glance, transforming the interior of the trailer into something entirely new took dedication, hard work, and plenty of creativity. Yet after months of laboriously sanding walls and restocking cupboards so full with dining ware, that even Martha Stewart wouldn't be able to tell what was missing, and reconditioning floorplans back into pristine perfection…they finally had it! They were ready for adventure!
About Kristen & Siya - Hopscotch the Globe
Their story begins with a dream to see the world and ten months of incredible adventure. In 2010, Kristen launched Hopscotch The Globe as an outlet for wanderlust-filled memories and it quickly grew into something much bigger. The far-reaching escapades are captivating millions around the globe—sparking inspiration along each step of an extraordinary journey.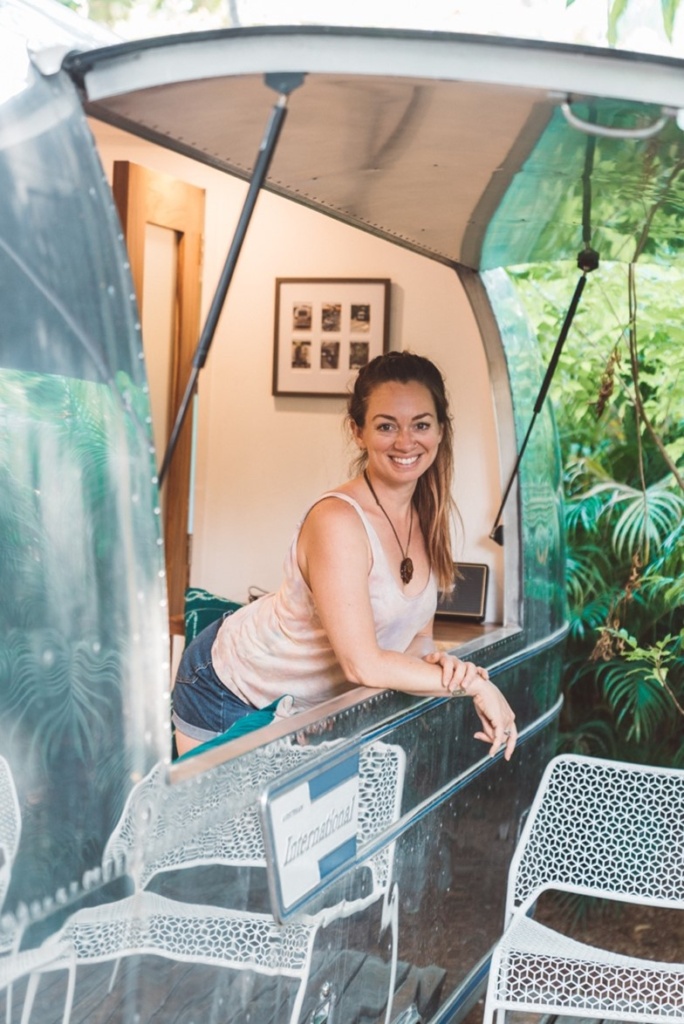 Kristen & Siya have a thirst for exploration that has taken them around the globe. They've made it their mission to show followers all they can experience while traveling, from destination guides and travel tips, to foodie adventures. But this dynamic duo doesn't just take you on travels far away; through their YouTube channel, they also provide an insider's view of living on the road: beauty & fashion musts, plus fun reviews.
They have been navigating all the bumps in the road, like endless repairs and balancing work life with family life. They even took it one step further by purchasing land to build an eco-community in Costa Rica – where they're moving their beloved Airstream for a totally different kind of experience. But that story is for another day.
Home – Sweet – Mobile Home
"We traveled the world for 5 years. We both quit our jobs, and absolutely loved it. After traveling to 50 different countries with a backpack and a camera, we wanted to have some kind of a home. We missed having a drawer or closet and our own bed to sleep in," recalls Siya.
They came across a beautiful silver 31ft Airstream from 1976. Without knowing much about trailers, they went to look at it and ended up buying it for around US$ 10,000. The trailer was a mess, nothing had been done to it in decades. So, they had to rip everything out and completely gut it; they even had to separate it from the frame, in order to sand-blast the frame and remove the rust.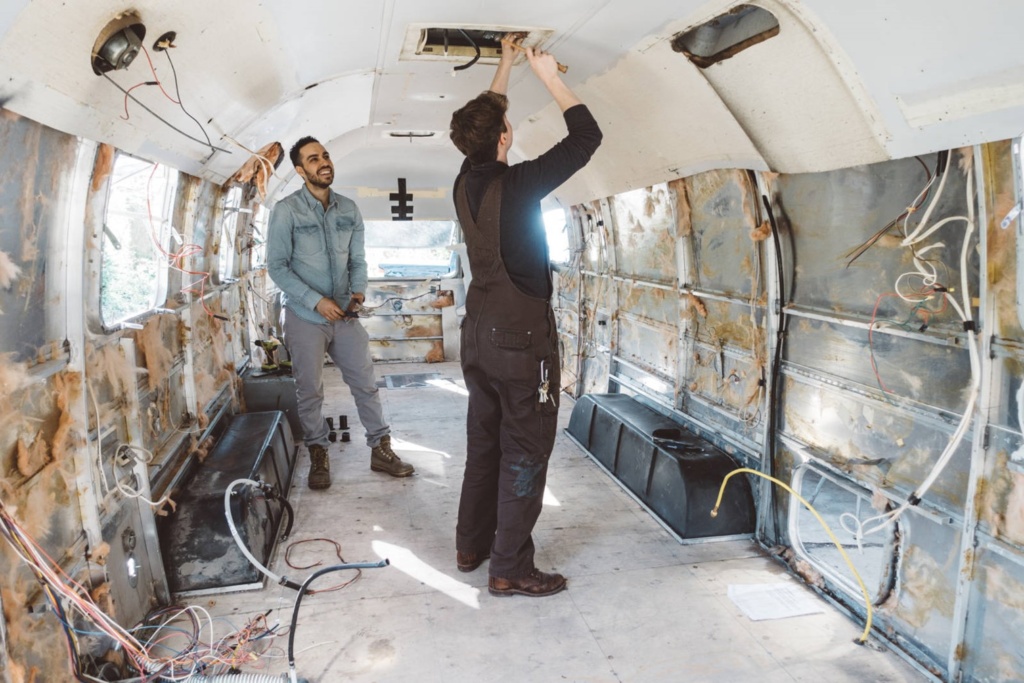 "We wanted to do it right, so we really started fresh. We designed it, planned out the space, built the furnishings, and put everything together. We hired some people to help out with electrical or carpentry, but for the most part, it was us doing the work. And we fell in love with the lifestyle. Now we had the ability to continue to travel, but we had a home, and not just a regular home. There is a certain magic in taking an old thing and turning it into something new and beautiful."
Renovating the Airstream was not without challenges. Working within small, confined spaces was difficult. They also had to learn that not everything is level the way it would be in a house.
All the walls being aluminum brought up another set of issues; removing wall panels and then working on the space behind them was complicated. The renovation of the 200 sqft home on wheels ended up taking around 6 months.
Go Power as the one-stop-shop for the mobile energy solution
Not unlike many other freedom seekers out there, Kristen & Siya wanted to be camping in the middle of nowhere, so having autonomous power was a must. "I knew that solar was going to be a big part of this vision of being eco-friendly, being low-impact, being minimalist."
Siya remembers exploring many companies to find a solution that would enable an off-grid lifestyle. After months of research, his eyes fell on Go Power. Eager to support a Canadian company, he reached out and explained what they intended to do with the Airstream.
"And they loved it; so much that they supported us by sponsoring a whole solar setup, gave us 500 watts of solar, an inverter, everything we needed. They gave us all the supplies, and we hooked up the system. We've been using it for the last 5 years, and it's still working today. We can power our lights, our fridge, and a whole bunch of other things."
Getting set up with mobile solar power
"We have five of the 100-watt solar panels. They're the thin flex panels because the roof of the airstream is curved. They are mounted flush to the roof, so you almost don't know that they're there, which is really nice. And then we have a charge controller and a 3000-watt inverter. We added four 12V deep cycle batteries, which store a ton of power, so we can stay off-grid for days at a time."
For reference, this is the power setup that Kristen & Siya use in their Airstream:
Installing Solar Power on the Trailer
How cool is it to mix old and new?! On the one hand, a vintage aluminum trailer from 1976, on the other hand, cutting-edge mobile solar technology from Go Power. Blending these two worlds together and creating something impressive and exciting…
"The whole solar setup was actually pretty simple to install. I had my friend who's an electrician come over. He was assisting with the setup because I didn't want to do anything wrong. I didn't want to break any of the electrical parts. In hindsight, I probably could have done it by myself. But it was nice to work alongside a trained professional who could guide me and make sure I was doing everything correctly."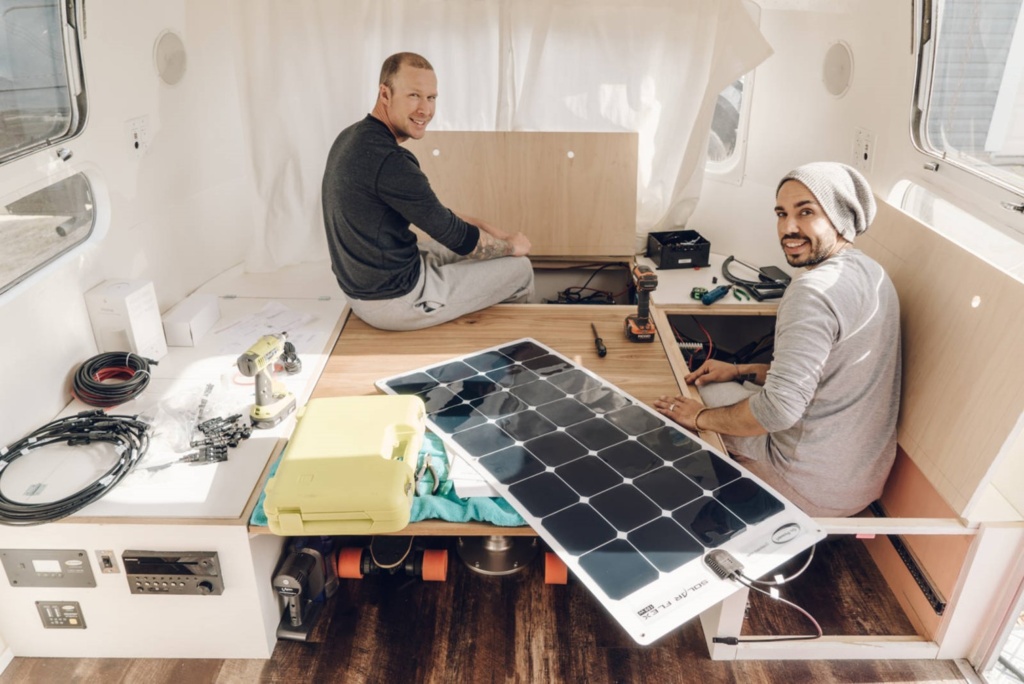 The batteries and the inverter neatly fit under the dining room benches, with a latch for easy access, the charge controller went on the face of the bench, next to the control for the entertainment system. They attached the five solar panels on the roof toward the back of the trailer. Using SolarFlex panels made it possible to mount and secure them flush to the roof with the help of a caulking gun.
"We have been in tornado-like winds, and the panels have not moved. We've gone through rain and snow, ice and desert heat; the solar panels are fine and still powering our airstream."
You can watch Siya's installation video here:
The joys of travel in a mobile home
"We traveled around North America with our airstream, visiting almost half of the States and all of the Provinces in Canada. The Airstream was our home for 5 years. It was amazing, we road-tripped in California, the Rockies, everywhere."
Then life happened, and the couple experienced something that would make them feel even greater joy than they had ever imagined. Kristen got pregnant and they had a daughter. However, that did not impact their wanderlust. Travel with the Airstream continued with their little bundle. Love and behold, they chose to renovate again, adding a little room, just a small bunk really, but it felt amazing being able to create a space just for her.
"We now traveled as a family throughout the States, enjoying the beauty that nature has to offer."
High-quality mobile power adding peace of mind to RV living
On one occasion they were off the grid in Ocala National Forest, FL, a beautiful, jungle-like park. It had been raining for 3 days straight without sunshine and they were running on batteries. "I can't believe it was possible to still harness solar energy with such minimal sunlight, quite remarkable that we were able to live through that without any noticeable impact."
Having a DC fridge definitely helps and the A/C was not needed then. Apart from that, there is an induction cooktop, an oven, a sound system and a bunch of LED lights to power, just the necessities. "We like to keep everything low impact. We were trying to be very conscious when we designed the space."
There was a period when Kristen and Siya did not use the Airstream for about a month, and they had not noticed that the charge controller was broken. When they came back, the battery was pretty much dead with under 10% charge.  "I charged them up again and they've been fine. I was really glad, we had chosen quality over price."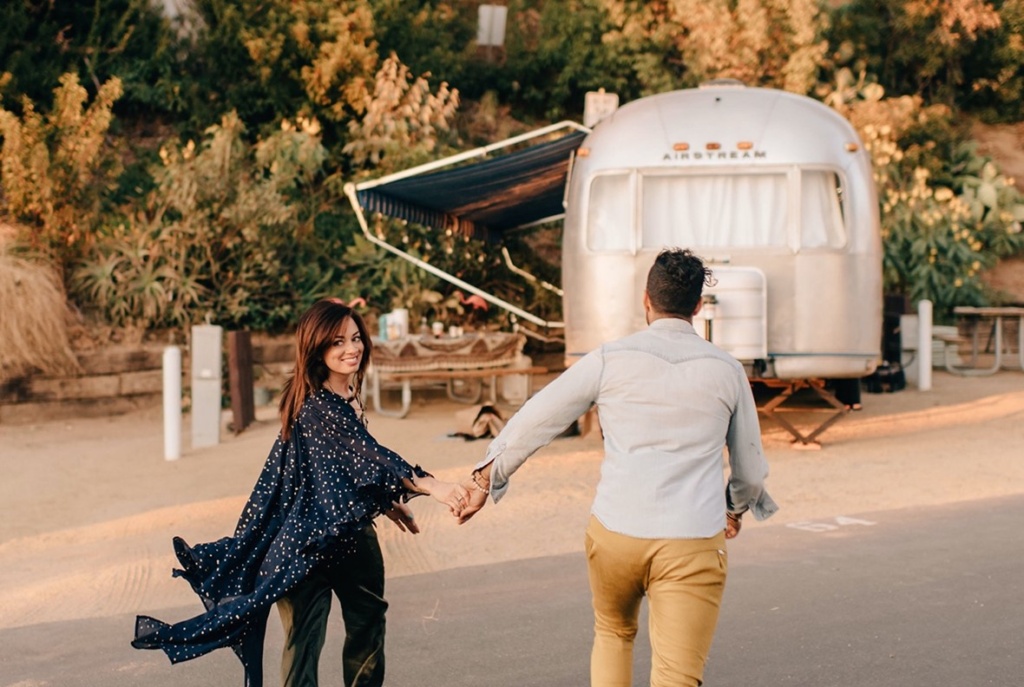 Kristen and Siya took their Airstream to many other off-grid adventures, from a sizzling hot Californian desert to a remote campground in Northern Ontario, and everything in between. Simply enjoying their time away from civilization.
"It was funny when we were traveling and we would be in campgrounds or RV parks with our Airstream; the power would go out and we'd have neighbors banging on our door: Hey, how come your lights are on, didn't your power go out! I'd be like, I didn't even know the power went out. And it's times like that when I really appreciate having the solar power setup."
The Experience with Go Power – A Testimonial
"I like that it was all one company. When I was doing research, I found bits and pieces here and there. But I didn't know if the charge controller would work with that battery and the inverter with those panels. Would the wiring be compatible? Most of what I found was just not designed to work together. That was different with Go Power. They test the equipment in-house and make sure it all works perfectly together. The more we get into smart technology, where devices speak to each other, that becomes absolutely essential."
"I also enjoyed dealing with a Canadian company. I didn't have to talk to anybody overseas. And I really like their customer service. When we came back to Costa Rica and realized that our charge controller had broken, I called Go Power. A loose wire had melted the back of the controller. It could have been me not tightening those after years of use. But I called, and it was, no questions asked, we'll send you a new one. The customer service rep didn't know who we were. It was just a random phone call. I said: Hey, I'm in the jungle here. My charge controller broke, and he went: No problem, we'll just send you a new one. That was when I realized, I need to work with this company again because they're great. And if they're willing to stand by their products 5 years later, it's definitely a company I want to support."
Talking about the Benefits of a Mobile Solar System
 "I love the resourcefulness of being able to generate our own electricity, power our devices on the go. It's just a great feeling to be self-sufficient, to be independent and have our own electricity supply wherever we go and whenever we need it. But you can also take it much further. I hear Go Power now has Bluetooth-enabled devices."
It certainly is inspiring to get a glimpse into Kristen and Siya's journey. It shows that it is possible to go off the grid, without sacrificing comfort, to travel some of the most remote areas on the planet, exploring and discovering the new and unknown. Did they inspire you too?